Two Hearted Ale 
tasting notes
Bell's Two Hearted Ale is an India Pale Ale style, very refreshing and super drinkable beer. Yellow golden clear head with the distinctive aroma of floral Centennial hops—fresh and resinous, just a small hint of honey. Taste is balanced, it follows nose with fresh citrus. Distinctive, malty backbone with just enough of hoppy bitterness—not as bitter as other IPA's.
– Modern IPA's are decidedly hoppy and bitter, with strong hoppy and floral aromas, specially from American hops such as Citrus and Mosaic.
– Some versions are dry-hopped to get an even more intense aroma.
– Its color ranges from medium-gold to amber and even to dark brown and black in the case of Black IPA's.
– The body is medium-light and the ABV is not very high, in the range of 5 to 7,5% ABV.
– The English styles have a more sweet character derived of the malts used (giving them a caramel, bread, and toast touch).
Related Searches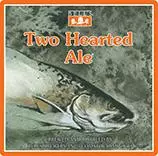 Style Score
100 / 100
Overall Score
100 / 100
Rating Count
3510
Overall Score
3.95 / 5
Rating Count
517,243
Alcohol
7 %
IBUS
55
Brewer
/bellsbrewery
Total Brewer
3.85 / 5
Rating Count
4,268,214